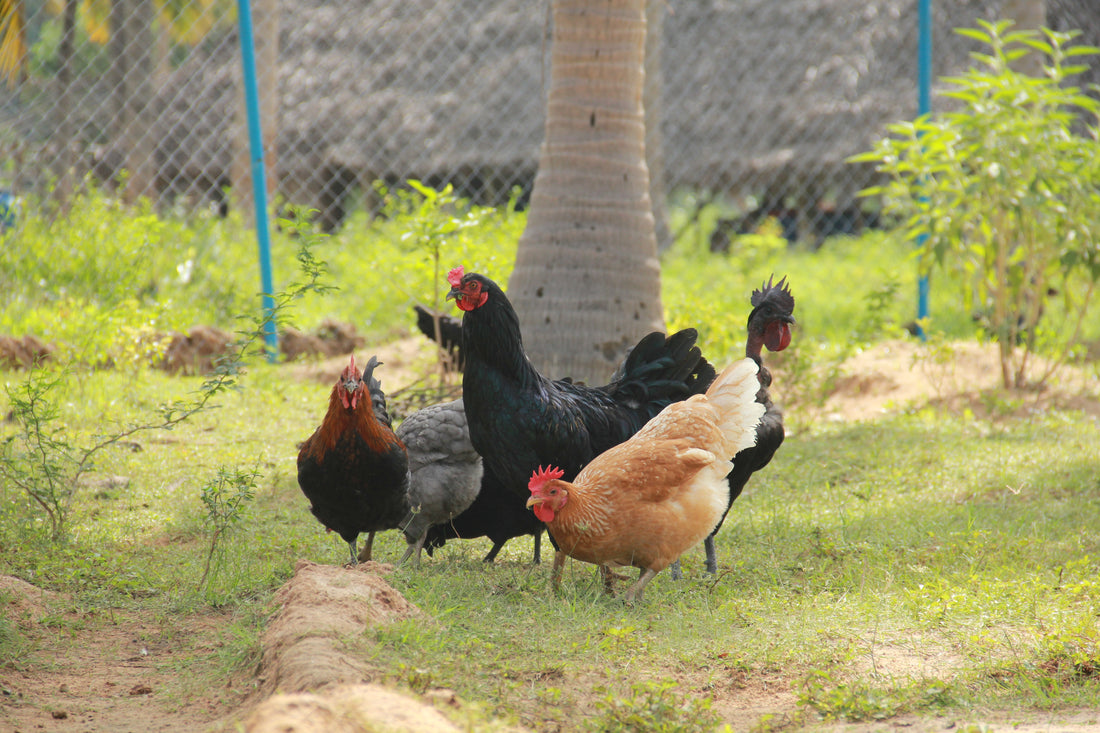 Frequently Asked Questions
What is the difference between caged, cage-free and free-range farming?
Caged means the hens are kept in tightly packed wired cages their whole life and denied all their freedom. Unable even to spread their wings and turn around, caged hens are unable to display natural behaviours. This is an unethical and inhuman way to raise hens.

Cage-free hens live in a confined area i.e inside a barn. They have limited space to express natural behaviours like flying, perching & have access to nest box to lay eggs comfortable & in privacy.

It's important to ensure Cage Free Farms are Certified Humane to ensure the animal friendly standards are met to ensure wellbeing of the birds.

Free Range means hens are allowed large outdoor spaces to roam freely and to express all their natural behaviours, a pen for night shelter and nests to lay eggs in privacy. Fresh air, sunshine and plenty of exercise keep them fit and healthy.

At Happy Hens, we raise our hens the free-range way. They are happy birds and lay the best eggs.
What do Happy Hens birds feed on?
Our girls indulge in natural scavenging in the range and feed on highly nutritious greens, seeds, bugs & trace minerals from the soil. In addition, grain based food formulated in-house, infused with herbs are fed making for a balanced, healthy diet.

No animal by-product is fed to our birds. The feed is free from anitibiotics, hormones and synthetic supplements.
Why are herbs feds to hens and what herbs are these?
We include seasonal herbs in the diet of our hens. It enhances immunity & good health of the flock. In addition probiotics are given to birds. Healthy birds need less & or no intervention of therapeutic antibiotics.


We feed our hens herbs with high medicinal value such as

Brahmi, Basil, Sweet flag, Turmeric, Nilavembu , Keela Nelli, Neem & Aloevera, these herbs also contribute to enrichg the nutritive value of the eggs
What does hormone-free and antibiotic-free eggs mean?
No hormones are used to advance or increase the egg production and weight of the bird. Antibiotic-free means the birds' diet is free from non-therapeutic antibiotics.

At Happy Hens, we use medicinal herbs and traditional remedies like Panchagavya, homemade probiotics for the wellbeing of our birds.
Why does eggshell colour vary and does egg quality vary with the colour of the shell?
Colour changes in the eggshell are due to pigments called porphyrins being deposited while the eggs are in the process of formation. The process of colour change is linked to the breed of a bird & age, which means colour change is natural.

Additionally, shell colour has nothing to do with egg quality, flavour, nutritive value or cooking characteristics.

Happy Hens eggs vary in shell colour from tan to dark brown and, occasionally, white.
Why does the egg yolk colour vary between eggs? Does yolk colour indicate the nutritional quality of an egg?
The carotenoids in the hen's feed make the yolks yellow. Carotenoids occur naturally in plants, fruits, greens and vegetables. The greater the quantity of these colourful substances in the hen's diet, the stronger the shade of the yolk. While the yolk colour is not an indicator of nutritive value, a golden upright yolk signifies good quality eggs.
How should I store eggs to keep them fresh?
Keep them refrigerated and only take them out about 30 minutes before you use them. Eggs can absorb flavours and odors so keep them in their cartons, pointed end down. Avoid washing them until they are ready to be used.
How can I tell if an egg is still fresh?
A quick test for freshness is to check if the raw egg in the shell sinks in a basin of water. Fresh eggs stay at the bottom of the bowl while older eggs float because of the large air cell that forms in its base.
Why do brown egg shell colour dissolves during boiling ?
Egg shell discoloration is observed in brown eggs under certain circumstances. 

Egg shells are calcium carbonate & the natural colour of calcium is white. The brown layer birds naturally give the brown pigmentation during the end of her egg laying process. 

These pigmentation dissolve if the water has traces vinegar or certain detergents. The acid property in vinegar reacts with calcium carbonate to dissolve the shell colour.
Why do blood spots occur in eggs?
Blood spots occur when blood or a bit of tissue is released along with yolk. Each developing yolk in a hen's ovary is enclosed in a sac containing blood vessels that supply yolk-building substances. When the yolk is mature, it is normally released from the only area of the yolk sac, called the stigma or suture line, that is free of blood vessels. Occasionally, the yolk sac rupture, causing blood vessels to break and blood to appear in the yolk or the white. Blood spots occur in less than one percent of all eggs laid. Blood spots may be triggered by too little vitamin A in a hen's diet, or they may be hereditary.

Meat spots or brown tissue spots are occasionally found in the egg white and typically formed from pieces of tissue picked up by the egg when passing through the oviduct.

Both are safe to consume; they do not indicate if its fertile or non-fertile & it can be removed by a tip of a knife if you wish to.
What is the difference between fertile & infertile eggs?
The difference is weather a rooster was involved or not in egg production. Hens do not need a rooster to lay eggs. Hens ovulate regularly. Such eggs are infertile. However, when a hen mates with a rooster, the eggs produced are fertile and under right incubation can bear chicks. There is no nutritional difference between fertile and infertile eggs. Happy Hens eggs are infertile.
How can I identify free-range eggs in the store?
Look for CERTIFIED HUMANE LOGO, it guarantees the eggs are "free-range." These labels confirm that the eggs were produced by hens with outdoor access.
Are birds debeaked at Happy Hens?
No, we do not practise debeaking at Happy Hens. Beaks are vital for the hens to engage in their natural instincts like foraging for food in the range, cleansing their feather and de-ticking.

However at times they can instinctively exhibit aggressive behavior towards weaker birds in the flock so we have a policy on beak trimming which is in accordance with our Humane certification HFAC Standards.
What is the environmental impact of free-range egg production?
Free-range egg production can have a lower environmental impact than intensive confinement systems. Hens constantly forage & in the process till the soil. Hence Chickens are refereed as fuel less tractors.

Their dropping are natural manure and increases bio activity in soil.

Access to natural forage, reduces the need for feed crops.