Happy Hens is a venture by two passionate individuals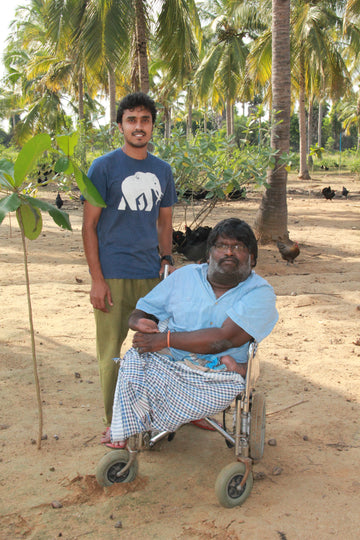 Manjunath M born to traditional farmer family, spent my early years among the hens, cows and sheep my grandmother kept. Business graduate and textile designer by academics. My interest in animals got me involved in rescuing urban wildlife in Bangalore as a teenager.
I love hands on working around soil & farm animals. Trees are my new love and converted 12 acres to a natural ecological green space in the last 7 years.
I love eggs & committed to deliver good eggs every day.
Ashok Kannan, co-founder is special and had the liberty of not going to formal education. Cricket is his passion & gained communication skills by listening to commentary.
His thirst for knowledge & sharing the same is commendable.
Ashok's earlier business on trading herbs and constant research helped him gathered in-depth knowledge about its uses. His passion for natural farming and animal husbandry has helped to implement good farming practices.
He has put all this gathered wisdom into the running of Happy Hens & has shared the knowledge with 500+ farmers.
He handles farm operations, production, training and research and lives on the farm with his family that includes hens, native cows, goats , dogs and cats.
Happy Hens is supported by NAN - Native Angels Network with eminent board members.
Love!
Manjunath